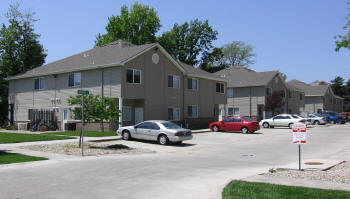 4 Bedrooms $1,300/Month
2 Blocks North of Bill Snyder Family Stadium
Wildcat Village Apartments are located just off of College Ave. and are only 2 blocks north of Bill Snyder Family and The Octagon of Doom (Fred Bramlage Coliseum.)
Wildcat Village Apartment Details
2 Levels totaling 1530 sq. feet.
4 Large bedrooms with walk-in closets.
2 Full bathrooms and sinks in 3 rooms.
Full-size washer and dryer.
Ceramic Tile floors in kitchen, dining area & main bath.
TV Lounge on 2nd floor complete with mini-refrigerator & wet bar.
Front Porch and patio.
Smooth top range, dishwasher & microwave.
Concrete storm room.